Read Time:
5 Minute, 41 Second
The investigations are continuing and the reformer effort picked up a few hard-fought district leader wins on primary day. But that does not mean a change will soon be coming to the Brooklyn Democratic leadership, as even those who might like to see one admit.
"I've given up predicting the future, especially when it comes to Vito Lopez," said Council Member Lew Fidler, on his way into St. Francis College for the county committee meeting last Monday, as protesters chanted "Let! Us! In!" behind him.
Fidler, who was one of the lieutenants who helped engineer Lopez's leadership takeover in 2005 and has since fallen out of favor with the man at the top, pointed out that there is a statutory process to allow the county committee to remove the leader mid-term. Lopez's re-election victory at the meeting, then, does not necessarily protect him until 2012. Given that even Clarence Norman continued serving for a year and a half after being indicted, though, the only scenario in which a vacancy at the top seems plausible to most people involved with Brooklyn Democratic politics is if he voluntarily abandons the position as part of a deal to avoid prosecution—should any of the investigations yield problematic results.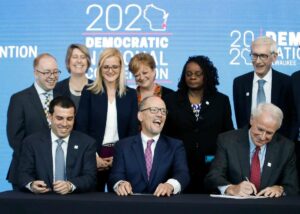 Still, the speculation and name-bandying has begun.
"This is selecting a new pope," as one insider put it.
To many, the most obvious choice is Fidler, who has the relationships with many of the party insiders despite his rift with Lopez, but is viewed more favorably by reformers, especially given his advocacy on behalf of efforts like the one at last week's meeting to prevent Lopez from stacking the executive committee with unelected members.
However, Fidler would be required to give up his seat on the Council to take the county leader position. That, he said, rules him out as a Lopez successor if and when the time comes.
"I will repeat for the 400,000th time: I'd have to give up my paying job as a City Councilman, so I would most definitely not be interested in it. I'd much prefer, even if it wasn't a paying job, to be a City Councilman than a county leader," he said.
When pointed out that he is consistently in the top ranks of Council members with outside incomes, Fidler said he needed the $112,500 base salary, plus lulus, which comes with his current position.
"I remind you that the reason I retain that job is because I have a kid in college, a kid in law school, and the tuition exceeds my Council salary. County leader, it's not really what I'm looking to do," Fidler said. "I've told that to so many people, I almost should put it on my shirt."
One scenario floating around political circles has Fidler resigning his seat to become leader as part of a deal which would send former Assembly member—and, for a very briefly surrogate judge—Frank Seddio to the Council in his place, thereby solidifying the old Lopez guard.
Or there is the possibility that Fidler's unwillingness to cede the seat could lead to Seddio being picked as the compromise candidate.
"Seddio has advanced very nicely through his career being the qualified nice guy who's around when there's a need, and who is everybody's second choice when their initial pick proves undoable," said the Brooklyn Democratic insider.
Seddio was just this month elected a district leader to what had been the spot of Bernie Catcher, an old Brooklyn power broker who died in late August. Seddio was immediately made chair of the county committee rules committee.
Seddio would not likely be the choice of the reformer wing, as he made clear through his light heckling of the reformers who gathered on the steps of Brooklyn Borough Hall last Monday before making a symbolic two-block march to St. Francis College and then scolding them for their disrespect to Lopez once in the auditorium.
Seddio did not return a call for comment.
A push will likely be made to have the next county leader be African-American or Latino, and possibly a woman. That has led to the thinking that Assembly Member Annette Robinson, who pursued a losing bid for the position in 2005, might make another try. Or people may turn to Assembly Member Darryl Towns, though he may choose to skip a leadership fight to avoid making enemies and creating entanglements ahead of the race to succeed his father, Rep. Ed Towns, which is expected for sometime in the next few cycles.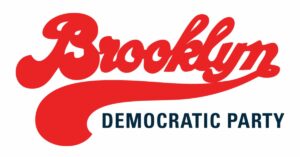 Interviewed just outside of the raucous auditorium last week, Towns said that he believes Lopez can survive politically, though he said there was some significance to the uproar against his leadership.
"It shows that there's a lot of interest in the democratic process, which I think is a good thing. It also shows there is some flux, and without question, you can't ignore the 800-pound gorilla in the room with the recent newspaper accounts swirling around our county leader," Towns said, while adding, "We also understand that not necessarily where there's smoke there's fire."
Other names being mentioned include district leaders Joe Bova, Walter T. Mosley and Jo Anne Simon. Lopez loyalists would almost certainly stop Simon, a reformer favorite and longtime Lopez antagonist who last year lost a Council primary to Lopez protégé Steve Levin. There may be pressure to pick a non-elected official or government employee in addition to the push for gender and racial diversity. If there is, Mosley—who is on staff with the Senate Democrats—would likely run into trouble.
One person who does not expect to be running is newly-elected district leader Chris Owens, despite advancing himself as a protest opponent to Lopez and winning all of three votes last week.
But like many considering a post-Lopez future, Owens expressed concern and disappointment that there were not more potential candidates even worth discussing as realistic possibilities.
"We should be looking at 10 or 15 people who could do this," Owens said, "but that's not the case."
Regardless, Owens said, that is not the focus of the Brooklyn reformers who suspect that they will be living with Lopez as the boss for some time to come.
"Vito's been around a while. He's a smart man. And for him to have made some critical mistake to have led to something that would really stick would be a true discovery on the part of law enforcement," Owens said. "I don't live for that day. The key is to engage him on some reforms in order to quiet us."
Read More-Halloran Replaced With Paul Vallone In Race For Avella Seat