Read Time:
1 Minute, 51 Second
While Mayor Michael Bloomberg and City Council Speaker Christine Quinn made the rounds in Albany yesterday to drum up Republican support for gay marriage, some Capitol insiders wondered why Gov. Andrew Cuomo wasn't there to lobby for it himself.
The governor was out touring the state on behalf of his top three issues – same-sex marriage, rent regulations and ethics reform. Inside the Capitol, Republican senators considered potential swing votes, like Greg Ball, said they hadn't yet been lobbied by Cuomo.
Quinn said she felt optimistic, "both about there being a vote and there being a vote that passes." Other supporters declined to second-guess Cuomo's strategy, and none questioned his commitment to the cause.
"I don't know all of the private conversations the governor has had," said one operative working to pass the bill. "But I do know the issue is where it is today because of the governor's leadership."
Still, Cuomo has not yet introduced a program bill for gay marriage. Senate Majority Leader Dean Skelos, who once promised he would bring the issue up for a vote, now says he plans to discuss it with his conference first.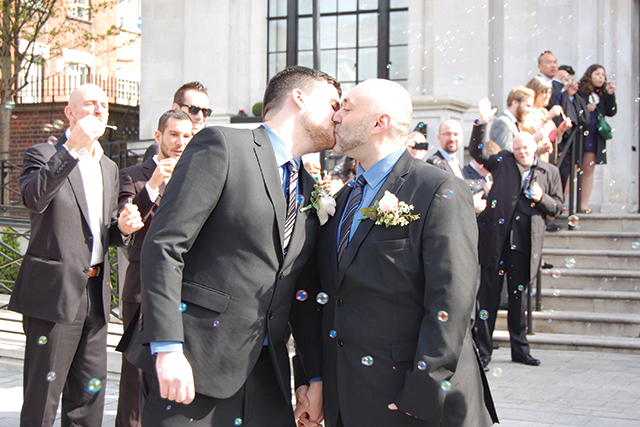 The Republican senators whose votes are most needed are outside New York City, limiting Quinn's influence. And although Mayor Bloomberg promised to financially support Republicans who vote in favor, he also said he wouldn't categorically withdraw support from those who voted no.
"In the real world, you can't pick one issue and say it's all or nothing," Bloomberg said.
Quinn met with at least five senators, including former Erie County Sheriff Pat Gallivan, a freshman Republican once registered as a Democrat. The meetings were largely conversational and sometimes emotional, she said, and while lawmakers seemed to struggle through talking about the issue in different ways, they were "very respectful."
By the end of yesterday, none of the missing votes had yet materialized. And with only 14 days left in the legislative session, one Democratic Senate insider acknowledged that passing a gay marriage bill may not end up viewed with the same time pressure as renewing rent regulations, which must be completed by June 15.
Read More: Heard Around Town July 27 2011